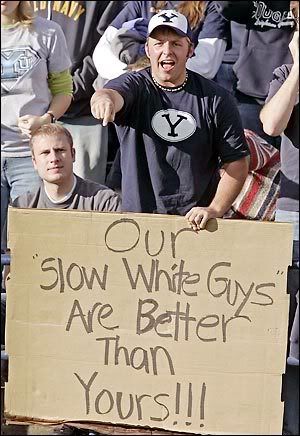 The college football season has kicked off, and the first slate of games has already produced some fireworks. Let's recap the action so far: my preseason Pac-10 Champion Oregon got embarrassed by Boise State and then suspended their star running back for the season after he sucker punched a Bronco player (good start for my predictions). Greg Paulus and the Orange lost in overtime on a 35 yard field goal, and, speaking of field goals, Northern Iowa didn't have much success in the clutch as not one, but TWO game winning attempts were blocked by Iowa's defensive line.
I'm going to begin picking a few big games of the week in college football (I may pick the whole weeks schedule in the NFL, but we'll see), so here are my previews and predictions for two big games coming up tonight.
In the first game of the night, Oklahoma takes on BYU from inside Jerry Jones' baby. ESPN has been preaching how good the Sooners defense is going to be in 2009, but do they mean compared to other Big-12 JV defenses? I don't believe the hype, but I do believe in the greatness of Sam Bradford. BYU has a great quarterback of its' own in Max Hall, and I think we're going to see a shootout at Dallas Cowboys Stadium.
Oklahoma Sooners - 41
Brigham Young - 27
In the other nightcap, Alabama takes on Virginia Tech in the best non-conference game of the year. Needless to say, I'm ecstatic to watch this game, I think it'll be a Steelers/Ravens-type game; you know, a hard-hitting defensive war that's only fun to watch if you appreciate magnificent football. I'll be parked in front of the TV, no doubt.
Alabama - 20
Virginia Tech - 13
Enjoy the games, I know I will. Thanks for reading.